Glamping has continued to become a rising trend throughout the years, and we don't see it stopping anytime soon. If you don't know, glamping is the luxurious side of traditional camping where the acommodations include amenities to make your stay more comfortable. Although glamping may not be for everyone, we believe that it's something everyone must try at least once to see if it's a hobby for you! We gathered our top recommendations to consider before you select the perfect Ohio glamping cabin - keep reading to learn more!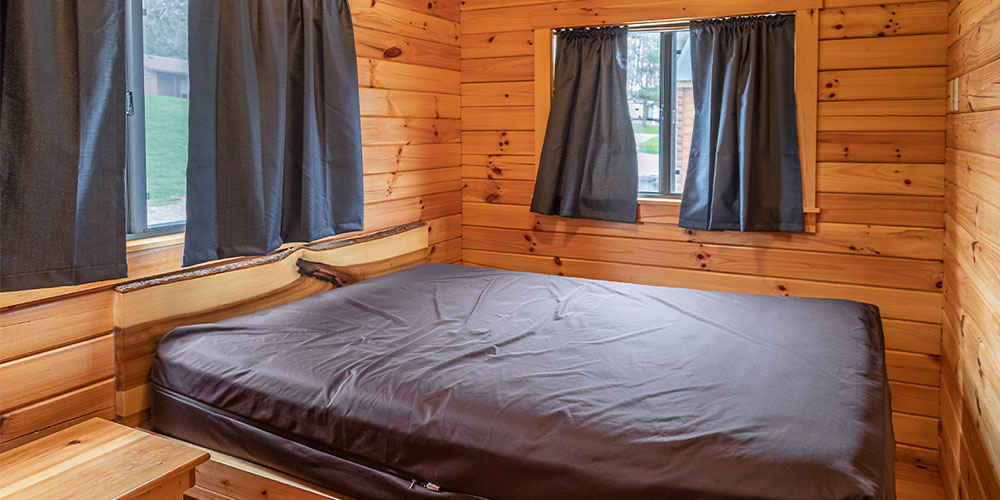 Sleeping Accommodations
Before you choose which glamping cabin is best for you, you must first learn about the cabin's sleeping accommodations. Learning how many people your cabin can sleep is crucial to finding the perfect glamping cabin!
At Clay's Resort Jellystone Park™, we have 5 luxury cabin types to choose from. Talk about options! If you have a small family, our Cozy Cabins (sleeps 4) are a great option. If you have a larger family, check out our Deluxe Lakeside Lodges or Suites, Deluxe Cottages, or Whippoorwill Cabins - they all sleep up to 8 people!
Amenities
In general, it's good to note if your glamping rental includes a full kitchen and bathroom so that you can plan ahead of time what you need to bring. Lucky for you, most of our glamping options at Clay's Resort Jellystone Park™ include a bathroom, so there's no need to worry about leaving your cabin in case of an emergency! As for kitchens, our glamping cabins are equipped with either a kitchen (no oven), kitchen (oven), or kitchen (stovetop).
For those looking to book a cabin rental that includes a kitchenette but no need for an oven, we recommend booking our Deluxe Cottage or Cozy Cottage. On the other hand, our Deluxe Lakeside Lodges and Suites are equipped with a kitchenette and a stove top. Lastly, our Wippoorwill Cabins are the definition of pure luxury as they have a full kitchen with an oven.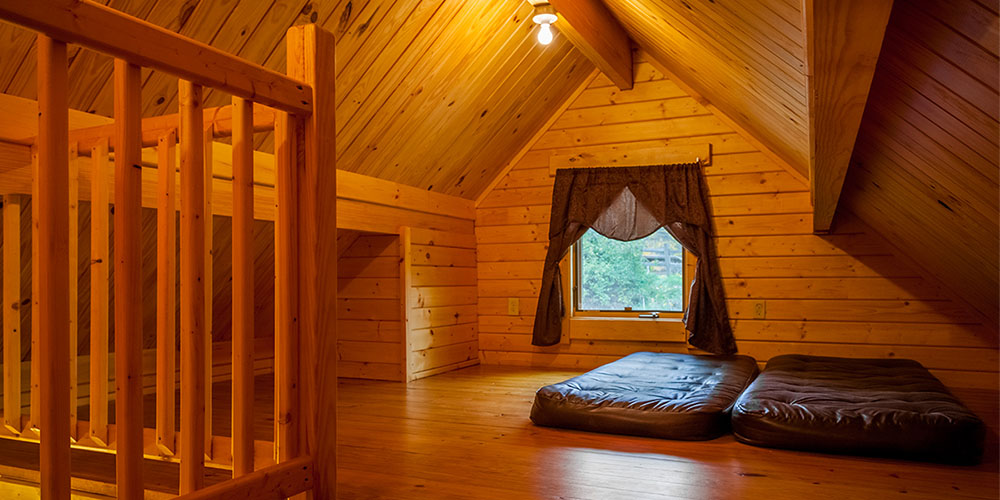 Privacy Needs
Privacy is a huge concern when booking the perfect Ohio glamping cabin. The cabins at our Camp-Resort have some unique amenities to provide you with extra privacy - like private bedrooms and loft spaces!
Private Bedrooms
Looking to book a glamping rental that has a private bedroom? No problem! At Clay's Resort Jellystone Park™, our Deluxe Lakeside Lodges, Deluxe Lakeside Suites, Deluxe Cottages, and Whippoorwill Cabins all include one private bedroom for the parents.
Loft Spaces
Loft spaces are not only fun for the kids, but are also great for the adults as they provide extra room and privacy. Loft sizes vary by cabin rental, but our Deluxe Cottages and Whippoorwill Cabins include a loft space. You can't go wrong when selecting one of these Ohio glamping cabins!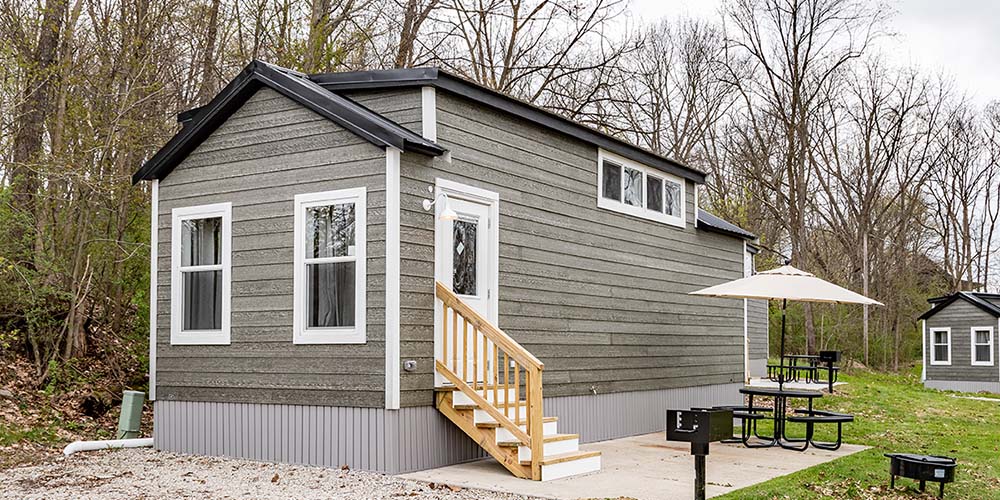 Pet-Friendly Options
Don't leave your furry friend behind if you don't want to! No matter where you go, many glamping options offer pet-friendly accommodations. Our Whippoorwill Cabins all have pet-friendly options. Just make sure to add a pet to your reservation so our staff knows to book you in a pet-friendly cabin!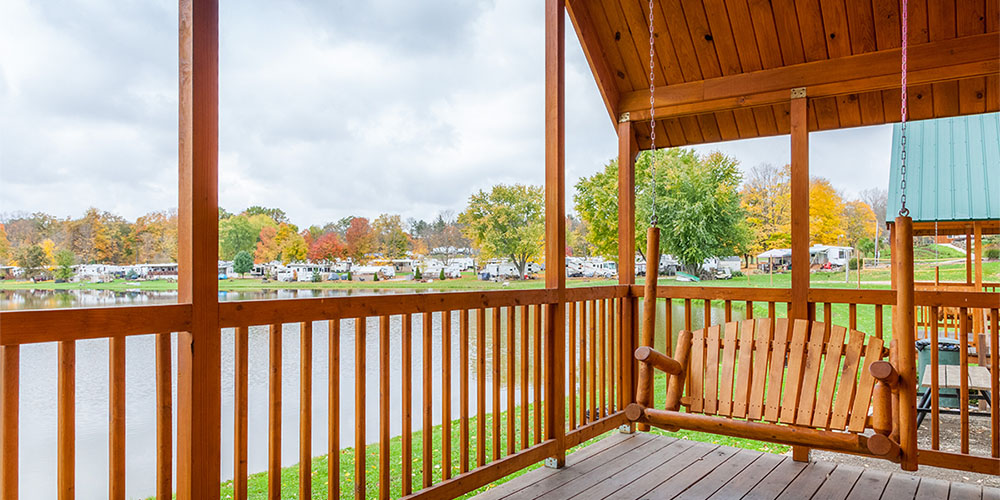 Type of Glamping Rental
Whether you're looking to book a cabin, cottage, glamping tent, or suite, the options are endless! At Clay's Resort Jellystone Park™, we offer 8 glamping options for you to choose from.
Looking for an option close to the swimming lake and many of our fantastic attractions? Look no further than our Whippoorwill Cabins. Book a Deluxe Lakeside Lodge or Suite, or one of our Glamping Tents for a fantastic view of the fishing lake - you'll enjoy sipping your morning coffee on the porch while watching the calmness of the water! Looking for something a little more secluded? Grab a Deluxe or Rustic Cottage while you just enjoy nature with your family.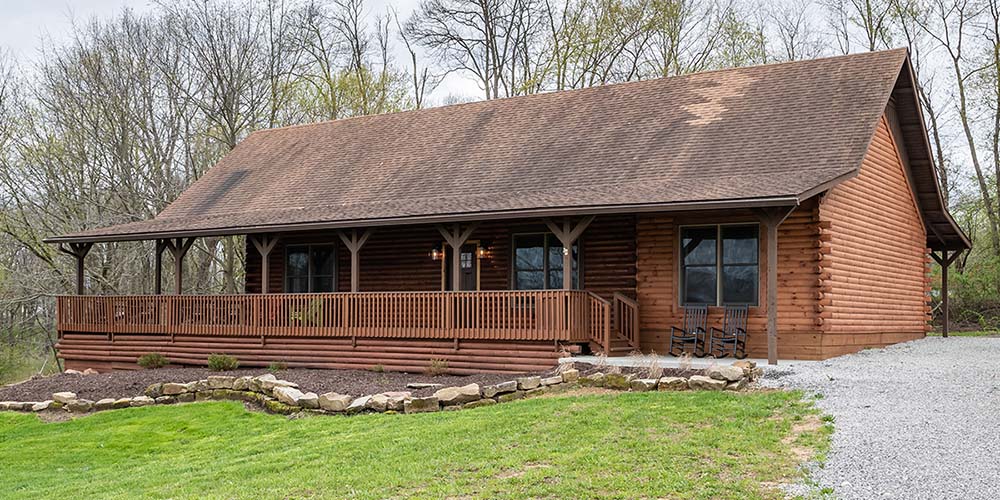 Group Rentals
Try Ohio glamping with a group! Clay's Resort Jellystone Park™ offers a fantastic group rental option. Our Hilltop Lodge allows you to accommodate anywhere from 8 to 17 people! Plus, this group cabin include private bedrooms, full kitchen, bathrooms, and other special amenities like personal hot tubs! This is the perfect way to kick off your Ohio glamping getaway!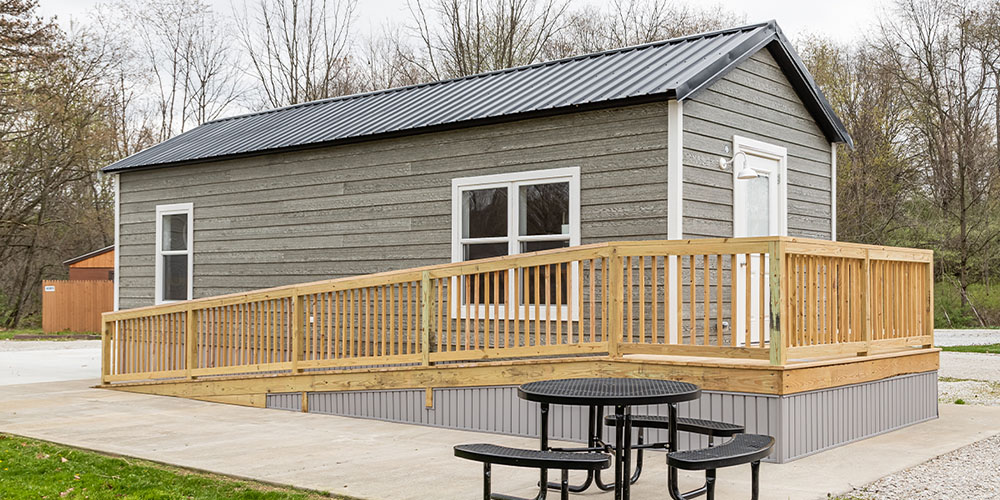 ADA Options
It's important to make sure all of your party members feel comfortable during their glamping getaway. So, before you book your glamping cabin, make sure to check if it is ADA compliant/friendly if needed. At Clay's Resort Jellystone Park™, our Whippoorwill Cabins have ADA compliant/friendly options. Choosing one of these ADA cabins may change the traditional layout of the cabin in order to better accommodate all guests, but you're still guaranteed tons of luxurious fun!
There's a lot that goes into booking the perfect Ohio glamping rental, and we hope that our recommendations help you with your decision. From sleeping accommodations and privacy, to pet-friendly and ADA options, answering these questions is crucial to finding the glamping cabin perfect for your family. Make sure to view all of our cabin types and book your stay today!