Cleveland is just under an hour away from Clay's Resort Jellystone Park™ and offers a variety of hiking trails for all levels of expertise. Whether you're staying at our Camp-Resort for a week or weekend, or just passing through Cleveland, we recommend checking out one of the many hiking trails this city has to offer. Keep reading for beginner, advanced, and expert hiking trails near Cleveland to find one that's perfect for you!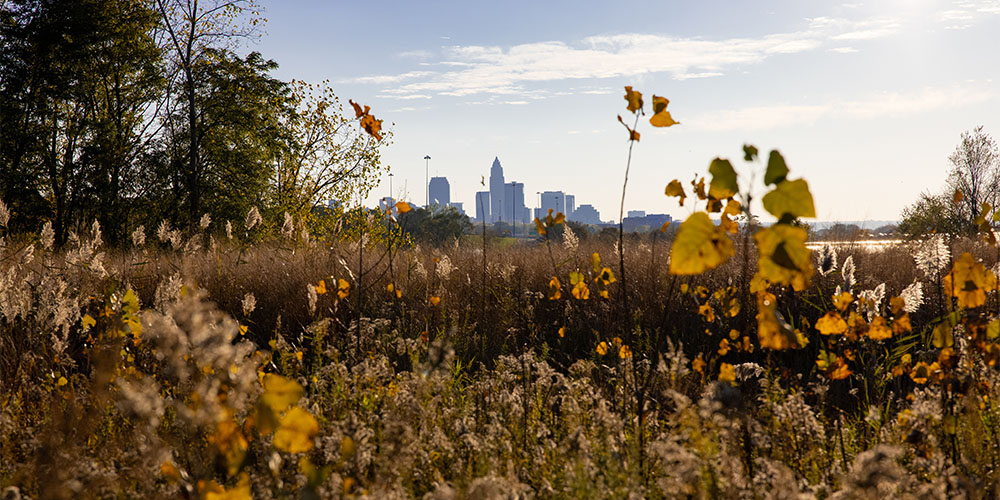 Cleveland Lakefront Nature Preserve: Beginner - 2.8 Miles
What better way to get the Cleveland hiking experience than on a lakefront trail? Luckily, the Cleveland Lakefront Nature Preserve is a fantastic option for hikers of all levels to enjoy the lakefront in a well-maintained, beautiful urban green space. Catch some of the best views of the Cleveland skyline as well as the lake on this 2.8-mile look trail around a small, lakeside penninsula. Located under an hour away from our Camp-Resort, this beginners hike is a must-do.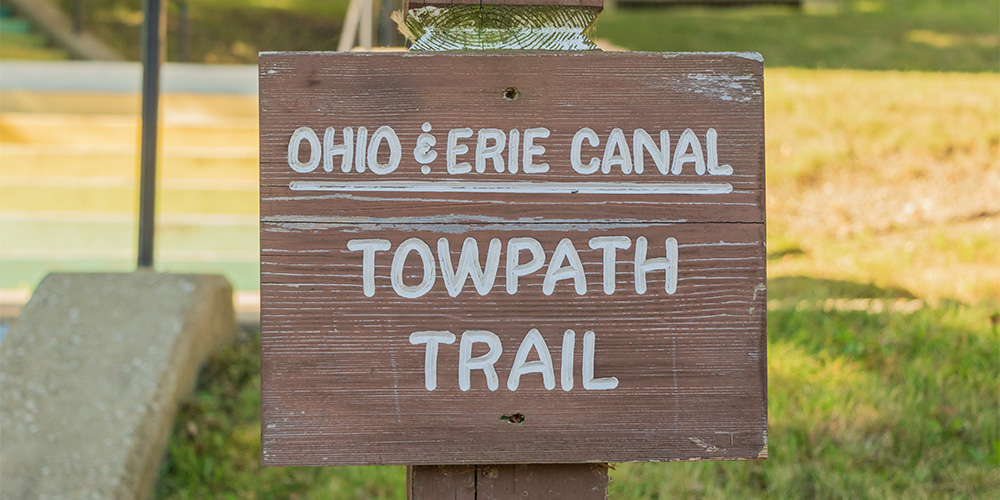 Ohio & Erie Canal Towpath Trail: Beginner - 80 miles
One of the most historically significant trails in Ohio is the Ohio & Erie Canal, and its namesake trail runs parallel to this important waterway that spans 80 miles from the outskirts of Cleveland to Zoar, Ohio via Cuyahoga Valley National Park. Of course, we're not expecting you to hike all 80 miles of this trail in one go (unless you want to…), but it's a wonderful, easy option for a half-day stroll or bike ride though an urban, suburban, and rural long-distance trail system. Located under 40 minutes from Clay's Resort Jellystone Park™, this hiking trail is perfect for hikers of all experience levels.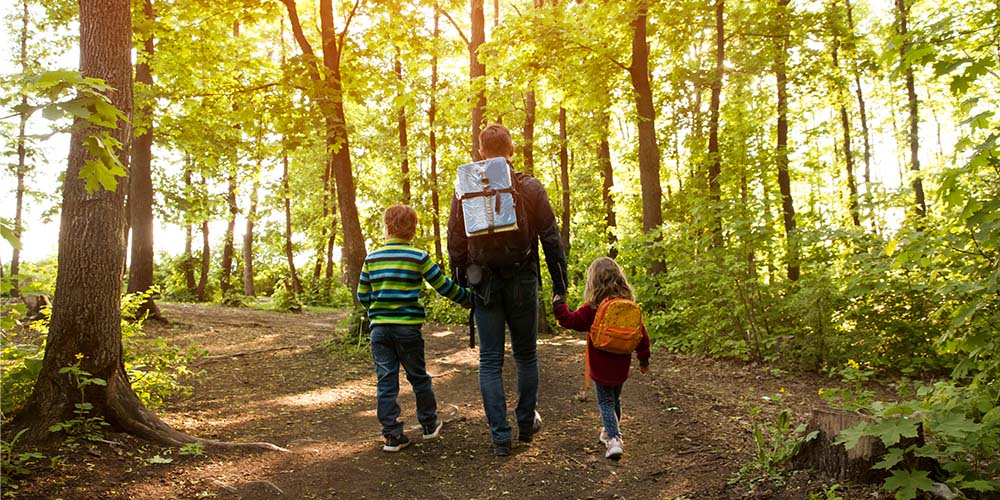 Glens Trail: Beginner - 1.9 miles
Another great Cleveland hiking trail is the Glens Trail, which is one of the most beloved trails that runs through George Metro Park. Known as one of the best easy hikes near Cleveland to experience scenery and stunning terrain, this trail is a must-do! While enjoying the nearly 2 miles of the trail, you'll walk alongside stark rock formations and waterways, and you'll pass a dam along the river. Located just north of Akron, OH and under 40 minutes from our Camp-Resort, Glens Trail is a perfect option when looking for hiking near Cleveland, Ohio.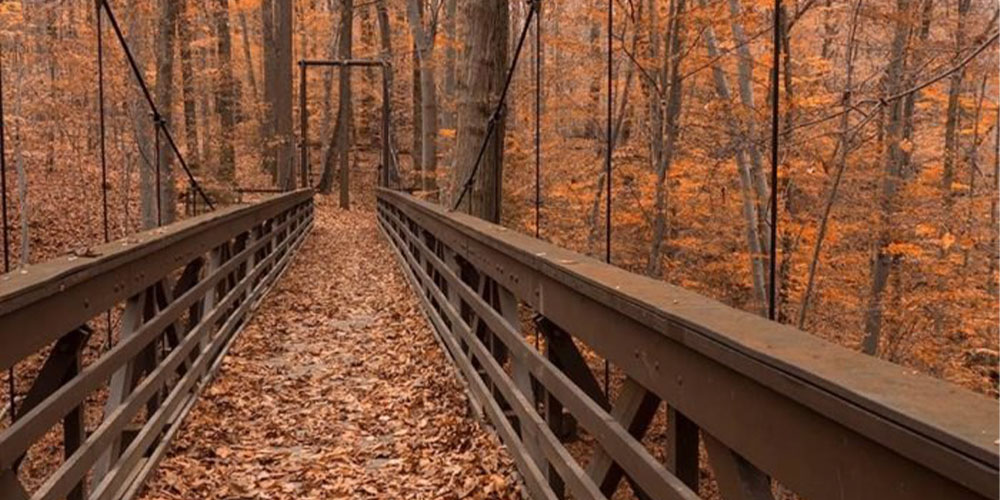 Cherry Lane Trail: Beginner - Distance 1.1 miles
Wildlife lovers will enjoy this 1.1-mile Cherry Lane Trail, which runs through the F. A. Seiberling Nature Realm just over half and hour from our Camp-Resort. As one of the best hikes near Cleveland to spot local animals and plants, there's a good chance you'll see some cool critters if you're patient and quiet enough. Aside from the wildlife, there are scenic bridges and peaceful forests throughout the park, perfect for losing yourself in nature on a short and sweet adventure.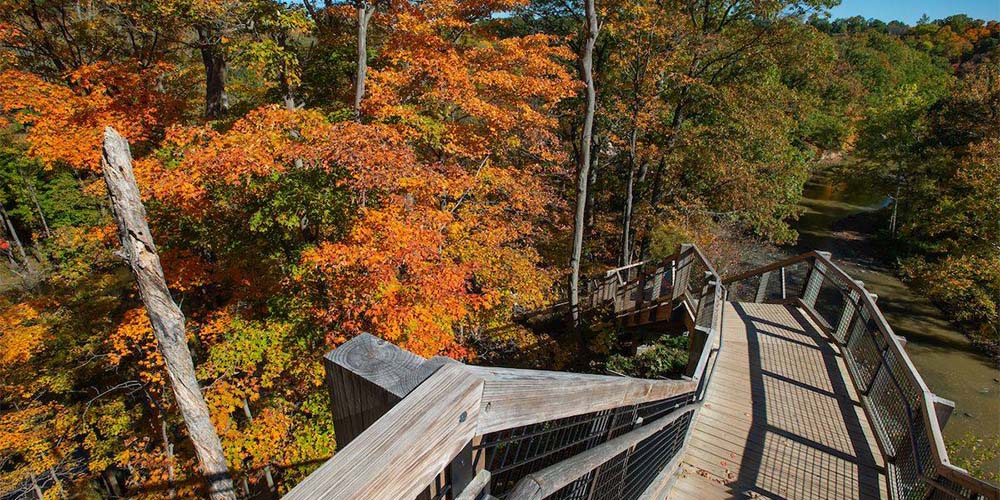 Fort Hill Earthworks Loop Trail: Moderate - 4.2 miles
Located under an hour from our Camp-Resort lies a forested trail that offers beautiful views of West Channel Pond - the Fort Hill Earthworks Loop! Located within city limits, this Rocky River Reservation trail is easy to moderate, with lots of little terrain changes and stairs that provide some challenge that's accessible to all levels of hikers, making it a great Cleveland hiking trail!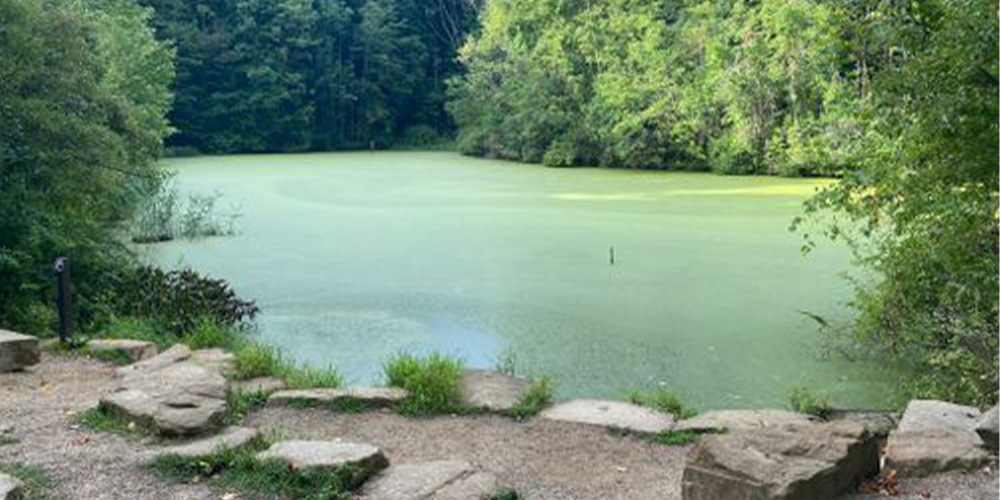 Mingo Trail: Moderate - 3 miles
This three-mile trail is a bit rough and rugged, but you should definitely traverse its expanse if you have the chance. This lovely portion of the forest is filled with beech, oak, and tulip trees. Nearby is the historic Towpath Trail, and this lovely walk is surrounded by charming waterways. Mingo Trail is located just 35 minutes from our Camp-Resort, making it a great day trip option.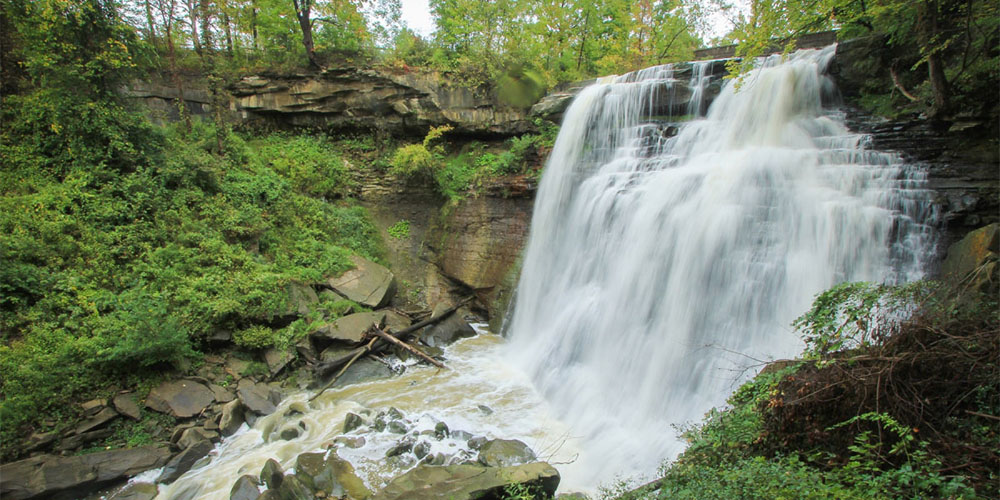 Brandywine Gorge Trail: Advanced - 1.4 miles
One of the best places for hiking near Cleveland is Cuyahoga Valley National Park, and the Brandywine Gorge Trail may be one of its most scenic hikes. With fun boardwalks and trails that lead to breathtaking waterfalls, the Brandywine Gorge trail is a Cleveland area trail that's perfect for hikers of a more advanced level. Located just 40 miles from Clay's Resort Jellystone Park™, this hiking trail near Cleveland is a perfect trip.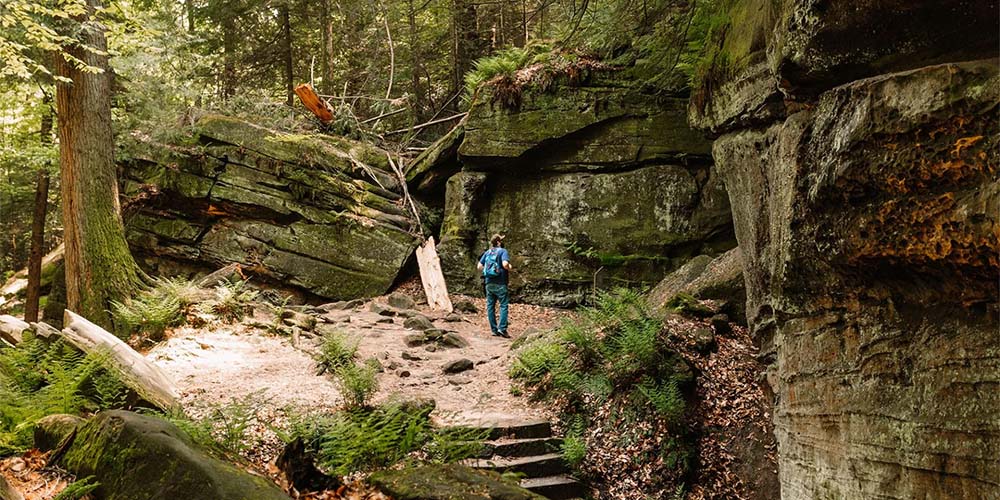 Ledges Trail: Advanced - Distance 2.6 miles
Another wonderful hike in Cuyahoga Valley National Park is the Ledges Trail, which takes hikers through 2.6 miles of trails through absolutely magnificent rock formations. Walk through vertical rock ledges and gorges and enjoy a peaceful forested setting on this fun, moderately difficult trail. The trail is also one of the most dog-friendly trails near Cleveland so be sure to bring the pup along with you. Located 35 miles from our Camp-Resort, be sure to add this hike to your list.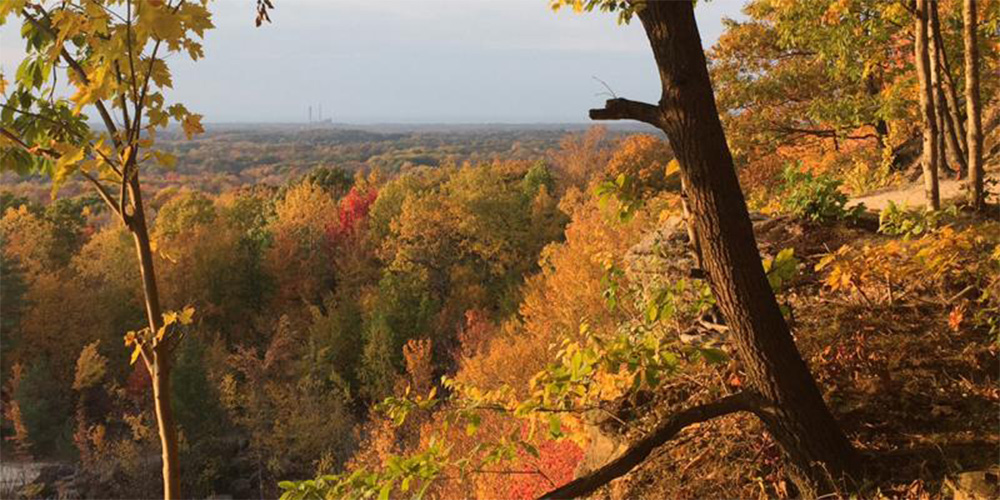 Chapin Forest Reservation Trail: Advanced - 5.7 miles
For some wonderful hilltop views of the surrounding Ohio forests, the Chapin Forest Reservation Trail is one great place to go hiking near Cleveland. Located just over an hour from our Camp-Resort, this 5.7-mile loop will have you enjoying a walk in the woods with a few steeper areas with varied terrain that will give you a fun challenge. From the highest points of the trail, you can catch a few overlooks that boast stunning views of the trees below.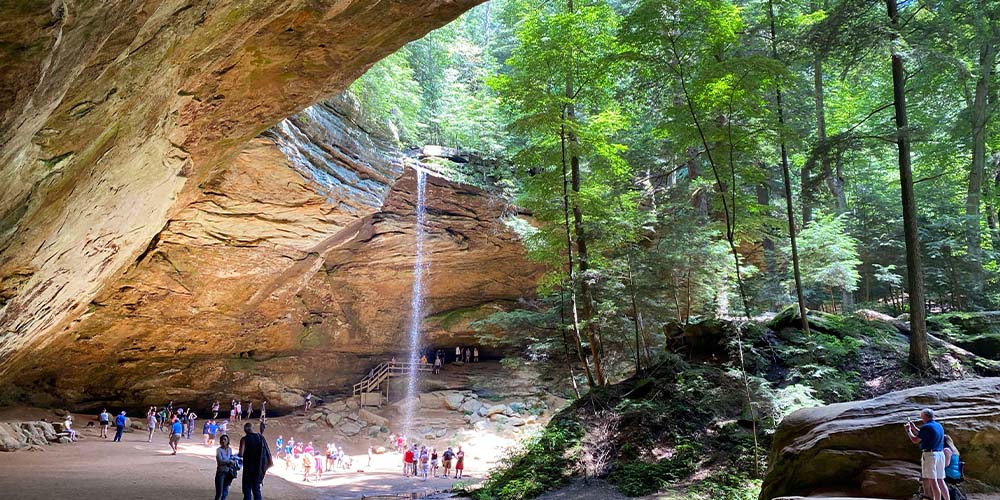 Photo by the Washington Post
Old Man's and Ash Cave: Expert - Distance 9.3 miles
As one of the longer and harder hikes near Cleveland, the Old Man's Cave and Ash Cave hike brings together some of Hocking Hills' best landscapes and challenges into one day-long hike. Known as one of the best hikes in Ohio, even among experienced hikers, this trail passes by the epic Cedar Falls, gorgeous rock formations and creeks, spooky tunnels, and more. Located just over 3 hours from our Camp-Resort, this is a must-hike for the expert hikers in Ohio.
What are you waiting for?! It's time to explore one, multiple, or all of these Cleveland hiking trails to top off your family getaway. Don't forget to bring sunscreen, plenty of water, and snacks!